FAQ: WHAT DO YOU WANT TO KNOW?
Frequently Asked Questions About Radio Jingles
JINGLE FAQ
Is the jingle package mine, do I own it?
Creative Radio does local, regional, and national jingles. We price our jingles accordingly, but are a buy-out for you (yes…it's yours) for your respective market area unless you expand your business. For example, let's say you have a singular business in San Antonio or maybe 5 locations in the San Antonio market; now you're even more successful and want to expand to Laredo, Oklahoma City, Abilene and Jasper? For a nominal licensing fee we would license your existing jingle to those other markets. If you have detailed questions about that, just call one of our friendly operators. Ummm, we don't have operators…we actually answer the phone!
Do I get just one jingle cut or many?
We create a "jingle package" for you. 9 to 11 different :30 and :60 second versions for you. We create all these so you have flexibility depending how much information the voice talent / announcer has to talk about your business or service for that particular ad. As your copy needs change, so does your jingle package. Variety, baby!
Are you an award winning company?
Yes. They are all collecting dust on our mantel! Next question.
How long does the process take?
About 3 to 6 weeks from start to finish. Usually sooner, it just depends on how fast you get back to us when the ball is in your court during each stage of the approval process.
Is the music in the jingle you're creating for me being used by another business somewhere else?
No, or very rarely. 90% of the jingles we create are custom created from the ground up, specifically for your business, potential customer base, and market area. We have writers and creativity comin' out our "wazoo", so to speak.
I've never done a jingle before. I don't know what kind of music or slogan or where to go with this?
I'm just not musical or a marketing genius! I just run a business and want HELP! I do know a jingle will be good for me, but how will I know I will get something effective?
No worries. That's what you're paying us for. We'll walk you through it all. Just come to us knowing a jingle will make your business marketing more memorable, and we can do the rest. Our process makes it very simple — but very powerful!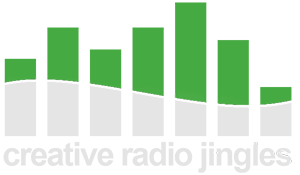 Custom Business Jingles & Audio Imaging for Advertising
#RadioJingles #JingleProduction