BRING CREATIVE RADIO TO YOUR MARKET
Now Booking National Market Visits for 2022
Creative Radio Jingles invites you to find out more about us! We are a fantastic strategic partner in creating Jingles for your clients! A Market Visit can generate more revenue and can Super Serve your clients.
How Do MY stations benefit from a market visit from Creative Radio?
Creative Radio's presentation is designed as marketing 101 for your advertisers. Not only do we promote jingles, we also promote the power of your stations as the perfect vehicle for your advertisers to place their message!
Clients with jingles tend to advertise more!
Bottom line is we help your stations generate more revenue!
What's the Cost to my stations for a market visit?
There is no cost to your stations to bring Creative Radio to your market. All we ask is the station take care of a location to host our presentations and hotel during the market visit.
How Do MY stations clients benefit from having a jingle?
A jingle brings the consistency to your clients marketing and with frequent radio, allows them to brand at an accelerated rate!
MARKET VISIT SUCCESS STORY
Market Visit Video Transcript
Stephanie Theisen from Leighton Broadcasting says, "I've been at Leighton Broadcasting for 14-years and we have always been a partner of Creative Radio. In my role as an account executive, I got to go through the process with my clients of having a radio jingle created. It was really fun, there was great energy at creative radio, as a company, and they are a great collaborative team, they tend to make you laugh, but ah, now as a General Sales Manager, it helps me get into the roots of what we do, like radio is about music! When you can take a client's story and their why, and put it to a musical image, it's fun to watch the client's face light up. It really brings their campaign together. It's a high-energy experience, it's fun to discover their favorite types of music, as that's usually part of the discovery process. And then my favorite question, I think, is, if you could have any star sing your company's name, who would it be? And just to find out who your client likes to listen to and who their music icons are."
Creative Radio Jingle Small Market Partnerships
So, you're looking for a radio jingle package to offer to your advertisers, well you've come to the right place. I'm Sam Anderson from an award-winning jingle company known as Creative Radio Jingles. We've been partnering with companies just like yours to create catchy, memorable, and professional jingles like the ones in this video. We are a small business just like the advertisers in your community. We are all radio guys here, and we have been working with GM's from all over the US for over 30 years, and here is what they have experienced.
CONTACT US TODAY: 1-800-307-2346
We will send you a free media kit about our process and package rates.
LISTEN TO SOME DEMO TRACKS WE PRODUCED AT CREATIVE RADIO »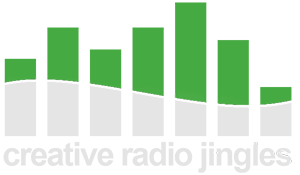 Custom Business Jingles & Audio Imaging for Advertising
#RadioJingles #JingleProduction