HOW THE JINGLE PROCESS WORKS
"My Business Has Never Done Anything Like This Before..."
Let's Breakdown the Radio Jingle Process.
The majority of our first-time customers are new to the radio jingle process and have never had a custom radio jingle written for their small business. To make the process easy to understand, we have broken it down into five basic steps. #RadioJingleProcess
CLIENT PROFILE
Information is gathered from your business. That information is then discussed with our lyric writers, and the lyrics are written. You will later be contacted for the approval of the lyrics and asked to make any changes before production.
PRODUCTION
Now, the rest of our creative team goes to work. Composers, producers and musicians create a piece of music from the ground up that adapts to the lyrics and the nature of the business. Your jingle music is 100% custom & not downloaded from any sort of music library.
CLIENT DEMO
Creative Radio produces a demo version of the radio jingle for you to preview. This is your opportunity to either approve the jingle as-is, or to make any necessary changes. Once we have your approval, we will schedule the digital master recording.
CREATE CUTS
Creative Radio puts all the finishing touches on your custom radio jingle. We turn your radio jingle into a great-sounding, broadcast-ready package with eleven various versions.
MASTERED JINGLE
Creative Radio produces a mastered version of the radio jingle for you. The mastered version is sent via mp3, or by CD if preferred. We send the jingle to both the radio stations preferred and you. We keep an archive of your jingle on file too.
What if we produce something you do not like?
Naturally, we do our very best to ensure that won't happen. That is why our custom jingle program includes a 100% money-back guarantee. If it is not right, we make it right, or we refund your deposit immediately.  
Want Your Own Custom Radio Jingle?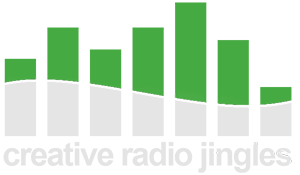 Custom Business Jingles & Audio Imaging for Advertising
#RadioJingles #JingleProduction