RADIO STATION PARTNERSHIPS
Bridging the Gap Between Small Business & Radio Groups
NTR PROMOTIONAL STATION JINGLE PACKAGES
CREATIVE RADIO'S
MARKET VISITS & SEMINARS
Schedule Your Market Visit
The Crown Jewel of what we do at Creative Radio is help small businesses get excited about their advertising! That's right, we come to you! A market visit will show your clients our dedication to their brand. Our presentation will explore why radio is still the world's greatest advertising medium, while showcasing the power and acceleration behind consistent branding with a jingle. This creates an effective marketing strategy for your client while increasing station revenue.
CREATIVE RADIO'S
REVENUE FOR RADIO
Jingle Packages
Turn key ready to air jingle packaged promotions that will make your station money! No matter what the season or time of year we have a jingle packaged promotion that's ready to increase station revenue!
CREATIVE RADIO'S
RADIO STATION ID
Jingle Packages
No matter the format, Creative Radio Jingles has a Station I.D. package that fits your audience! Amazing sounding station jingles that light up the sound of your stations brand with buy out pricing available! The more your station stands out, the faster your listeners will commit to long-term loyalty.
Creative Radio Jingles has been developing partnerships across the nation to not only help local radio stations of all sizes generate more revenue, but to provide their local businesses access to high-quality marketing resources. 
• NTR for Radio
We produce NTR (Non-Traditional Revenue) jingle packages to help radio stations find new ways to bring money in the door. These packages are produced year-round for various seasonal happenings. 
• Station IDs and Jingles
We've produced jingle and ID packages for radio stations all over the country in formats across the dial.
• Radio Station Group Market Visits
It is pretty rare to find the personal touch that we offer you and your paying clients like we do. We fly out to your market to provide high-level marketing and branding seminars for your clients.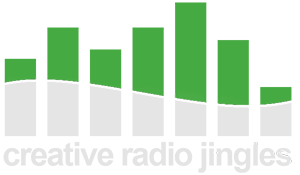 Custom Business Jingles & Audio Imaging for Advertising
#RadioJingles #JingleProduction