CREATING BIG BRANDS FOR SMALL BUSINESSES
Creative Jingles & Audio Imaging
CUSTOM RADIO JINGLE DEMOS
HELPING LOCAL SMALL BUSINESSES GROW
Hi, I am Sam Anderson from a company called creative radio jingles. And if you are reading this, that means you absolutely will find a solution to your radio jingle needs right here with us.
The power of jingles:
Jingles Work! (You know it, otherwise, you wouldn't be here.)
Jingle combined with frequent radio spots boosts top of mind awareness.
Jingles make you a recognized name brand locally, but also accelerate your branding.
CREATIVE RADIO JINGLE PACKAGES & OFFERS
CREATIVE RADIO'S
REVENUE FOR SMALL BUSINESS
Jingle Packages
If you own a business, then you know the importance of memorable advertising! Get into the head of your consumer with a catchy custom jingle. They won't just talk about you, they will sing about you.
CREATIVE RADIO'S
REVENUE FOR RADIO
Jingle Packages
Turn key ready to air jingle packaged promotions that will make your station money! No matter what the season or time of year we have a jingle packaged promotion that's ready to increase station revenue!
CREATIVE RADIO'S
MARKET VISITS & SEMINARS
Schedule Your Market Visit
The Crown Jewel of what we do at Creative Radio is help small businesses get excited about their advertising! That's right, we come to you! A market visit will show your clients our dedication to their brand. Our presentation will explore why radio is still the world's greatest advertising medium, while showcasing the power and acceleration behind consistent branding with a jingle. This creates an effective marketing strategy for your client while increasing station revenue.
CREATIVE RADIO'S
RADIO STATION ID
Jingle Packages
No matter the format, Creative Radio Jingles has a Station I.D. package that fits your audience! Amazing sounding station jingles that light up the sound of your stations brand with buy out pricing available! The more your station stands out, the faster your listeners will commit to long-term loyalty.
WHY CREATIVE RADIO JINGLES?
Research has shown that music is the most effective means of communication along all promotional forms. Why? Because music has emotion. It can convey a full spectrum of feelings about your business and give a very positive image in regards to the business that you own and operate.
How does my business benefit from having a jingle?
A jingle is your consistency in your marketing and advertising, it is something that is always there. When they hear the first few notes of your jingle, they know that they are being set up for a message from your small business.
Jingles create consistency.
Jingles show establishment and validate a brand.
Jingles demand immediate attention.
Jingles prepare the mind of the audience to receive your message.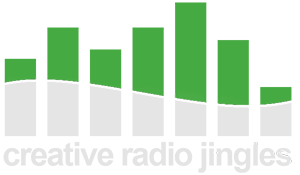 Custom Business Jingles & Audio Imaging for Advertising
#RadioJingles #JingleProduction